Almost every industry sector utilises fasteners in one capacity or another. Whether you are involved in the engineering sector, medical, automotive, aerospace, or any other industry, your business is likely to make use of a wide variety of screws, bolts, rivets, and other fasteners. Since their role is so essential, it is important that your fasteners receive the same high standard of plating as the rest of your components.
Here at Karas Plating, we have been finishing and plating fasteners of every size and shape for more than 70 years. Our team of professional plating specialists are on hand to assist you in choosing the prefect finish for the job.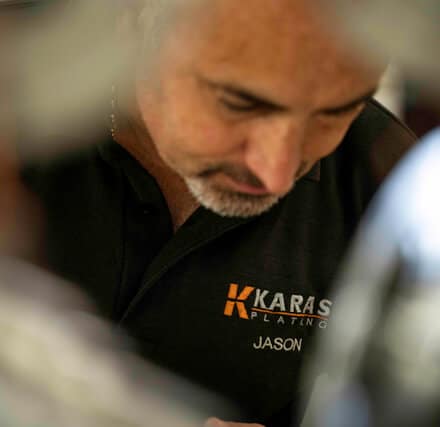 These are just some of the options available to you:

Zinc is one of our most popular forms of plating for fasteners, and with good reason. Fasteners plated with zinc benefit from improved corrosion resistance, making them useful in a wide range of applications.
MORE ON ZINC PLATING
Electroless Nickel Plating

Electroless nickel plating (ENP) also increases corrosion-resistance on fasteners and is often used in electrical appliances, or in areas that experience high humidity and condensation. Most fasteners that use ENP first require a copper plating process, onto which the nickel is applied.
MORE ON ELECTROLESS NICKEL PLATING

Tin plating is another popular option for fasteners. Not only does it provide a high standard of corrosion resistance, it also improves durability, which is a key concern for load-bearing fasteners such as industrial rivets. Tin is also highly-conductive and suitable for soldering, making it a good choice for fasteners used in both the electrical and electronic sectors.
MORE ON TIN PLATING
Manganese Phosphate Coating

While manganese phosphate does boast corrosion-resistant qualities, they are less pronounced than other plating methods such as zinc or tin. However, this technique does offer other benefits, such as improved friction resistance. Manganese phosphate coating also provides an excellent base for fasteners and other components that need to be painted, as it offers excellent adhesion.
MORE ON MANGANESE PHOSPHATE
Plating Fasteners to Prevent Galling

Galling is one of the most common problems experienced by stainless steel fasteners. It is a form of cold welding, caused by the friction between the fastener and the component part it is being used to fix. This can degenerate the fastener thread, removing the passive oxide layer from the thread itself, exposing reactive material that can soon seize up. Plating your stainless steel fasteners is an effective way to prevent galling, as it can toughen the thread to avoid it deforming, and can also provide additional lubricity, allowing for easier use.
CONTACT